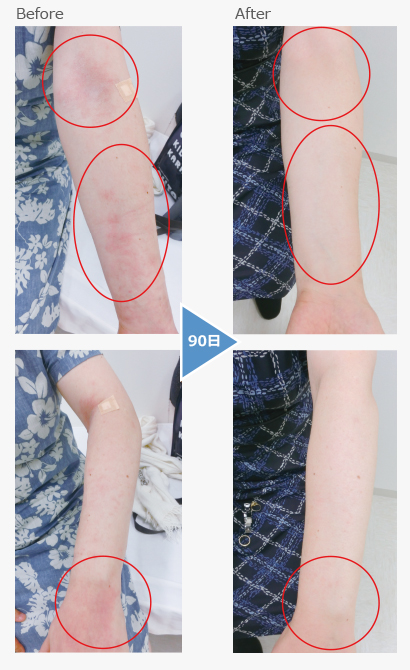 Medicament: no internal medicine/ no external medicine
Supplement: BioLT "ZNF" 2tabs
Etcetera: none
【Inspection Result】
WBC:6050→5990
Acidocyte:1.2%→2.3%
TGF-β:8.7→4.3
IgE:213→291
TARC: 776→441

Doctor's opinion
Her symptom which are erythema exanthem of whole body and itch sensation decreased conspicuously. She didn't change her life habit for her personal reasons, so I think this result only reasons why are effect of the supplement. Atopic aggravation factor which is TGF-β half reduced and TARC of the atopic marker decrease conspicuously.
Patient's impression
Before I took supplement, I had bad pain. But after 30days I start to take 2 tabs per day then itch decreased and feel so much better. I didn't want to use medicine as a steroid, so I appreciate.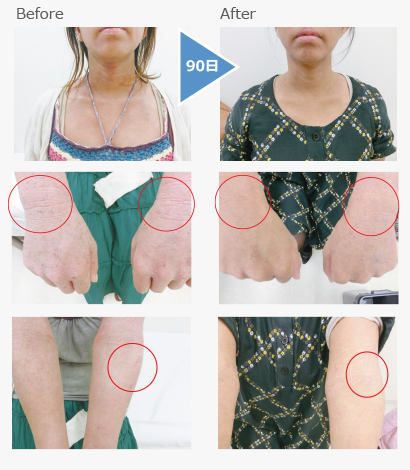 Medicament: no internal medicine/ no external medicine
Supplement: BioLT "ZNF" 2tabs
Etcetera: none
【Inspection Result】
WBC:6190→6870
Acidocyte:23%→11.1%
TGF-β:7.6→6.1
IgE:17048→15879
TARC:11352→852
Doctor's opinion
In this case, I can see less-filaggrin cause groove of a skin because filaggrin is water retention function, but she improved very well. And, her pigmentation on neck and arm improved as well. Acidocyte reduced half score, TARC reduced 92% and TGF-β reduced which are very good results.
Patient's impression
Reduced itch and my skin get better than ever, it bright and shiny.